In this article, we will cover the best forex simulator software of 2019. You'll find step by step instructions for how to choose the best simulator software, how to use simulators for day trading, and also how to test your forex trading strategy.
Using simulators will help you get rid of the bad habits and become a better trader. Simulated forex trading can be one of the most efficient ways to practice trading risk-free. Throughout this guide, you'll learn how to gain live-market experience and discover the benefits of using a Forex trading simulator software.
Is this your first time on our website? The team at Trading Strategy Guides welcomes you. Make sure you hit the subscribe button, so you get your Free Trading Guide delivered every week to your inbox.
To determine whether or not forex trading is for you, you need to engage in the markets and to do your due diligence before committing any real money into the game. Using real-time historical data you can reduce your learning curve and quickly determine if forex trading is right for you.
Simulated forex trading does present some issues. Often times, positive results on a demo account can translate into negative results in a live trading environment. This can make people question the validity of simulated trading.
However, the real cause behind this discrepancy is due to the lack of emotional involvement you get when real money is at stake.
Moving forward, you will learn what simulated forex trading is and how you can benefit from sim trading.
See below:
What is Simulated Forex Trading?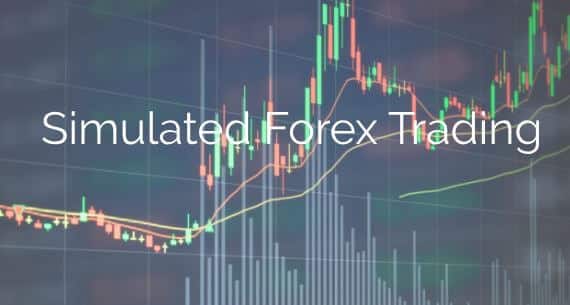 A Forex trading simulator is a piece of software that allows you to test your strategy offline using the historical data from the markets. If you have new trading ideas, trading simulator software can help you test them. This allows you to find what works and what doesn't, and eliminate any losing strategies.
While you might be working with a demo account, the market conditions resemble the live trading environment. You can open and close trades and modify orders the same way you would do in a live trading session.
The main advantages of using a free Forex trading simulator are as follows:
Acts as a live trading environment.
Ability to backtest and forward test your trading strategy.
Implement new trading ideas to see if they work.
Risk-free account trading with all the functionalities and trading features of live trading.
Using a free forex trading simulator can help you learn the ropes to succeed in trading. If you apply the 10,000-hour rule of mastery to your trading, you definitely need a forex sim to practice your skills.
Before you start evaluating your current trading strategy, you need to make sure you use the right setup.
In the next section, we'll show you what to look for when comparing the key features of the best forex trading simulator software.
See below:
Best Forex Trading Simulator
There are several important factors that every forex trading sim needs to be equipped with. At a bare minimum, it's important for your simulator to satisfy the following requirements:
1. Live Pricing Feed
It's necessary to ensure your simulator has a real market environment that streams live pricing data. Without live pricing data, you'll miss the opportunity to examine your trading strategy effectively.
A live pricing feed mimics the spreads. This means when you run your strategy through a simulator, it will use the actual spreads found in the market.
This feature is more important than anything else.
Having real-time price data will ensure that your backtested results are accurate. This helps you determine whether you can rely on the simulated historical data found in the software.
This brings us to the next important feature that any sim trading software should have.
See below:
2. Forex Trading Simulator Historical Data
Secondly, you need to have accurate historical forex data that goes several months back. Not having enough historical price data to simulate the performance of your trading strategy will lead to unrealistic backtested results.
The best online forex simulators will provide you with historical prices. It will also provide you with the ability to browse historical quote data for your preferred currency pair. Aside from the end-of-day quote data, the database should also cover intraday quotes. No matter your trading style, be it day trading or swing trading, the best forex trading simulator will be able to help.
The historical price data needs to be in a clear format where you get the high, low, open and closing prices for the selected currency pair and selected time frame. In some instances, you can also get the tick volume information. If your trading strategy is based on volume, it's vital to have access to the volume data.
Let's move forward and see what other features your free forex trading simulator needs to have.
See below:
3. Flexible Virtual Money Account
In our experience, traders fail to see the importance of using a virtual account balance. It's recommended to start with a balance close to the amount you wish to use in your live trades. If you can only fund your live trading account with $5,000, there's no point to use a $100,000 demo balance.
This has the potential to set unrealistic expectations that will lead to bad habits once you start live trading.
Simply put, ensure that the virtual money account you're using to backtest your trading strategy is the amount you will fund your trading account with. This will also allow you to implement a more realistic risk management strategy.
This way you will have no issues when you transition to live trades.
When you start trading with a demo account, you don't need to invest any real money. Make sure you pick a free forex trading simulator that has the minimum of trading features and tools to get you started.
Starting out with the world's most popular Forex trading platform aka MetaTrader4 might save you time in the long run.
Below you'll find a step-by-step guide to use MT4 Strategy Tester
Best Forex Trading Simulator – MT4 Strategy Tester
In this section, you're going to learn how to backtest a strategy using the MT4 Strategy Tester. For this reason, we're going to use a default strategy that can be found in the MT4 strategy library.
The first step is to open the Strategy Tester window by simply pressing CTRL+R or by clicking the respective icon found in the top toolbar.
See figure below:
Make sure you've selected the preferred time frame window and the appropriate settings. For the purpose of this example, we have chosen the following settings:
Expert Advisor = Moving Average.ex4 (the name of the strategy we backtest)
Symbol = EUR/USD (the instrument we run our strategy on)
Model = Every tick which is the most precise method
Period = 1H (the preferred time frame to run our strategy)
Spread = Current
We recommend playing with these settings over and over again until you discover the winning settings.
Once finished with selecting the settings, click on the Start button so that the simulation can begin. You can check the results of the backtesting strategy under the Report tab.
In the proposed example, we can notice that the default Moving Average trading strategy has produced a net loss of approximately -$400 during the tested period. This means that we're not yet ready to jump into live trading.
We need to work more on our strategy and fine-tune the strategy parameters until you discover a profitable trading strategy that you're comfortable to go live with.
Check out our guide How to Backtest a Trading Strategy for more trading tips and tricks.
Conclusion – Forex Trading Simulator
The goal of simulated Forex trading is to filter out bad trading strategies and to optimize your trades to get bigger profits out of your trading system. The key to successful trading is to make the transition to live trading as soon as the simulation provides evidence that you have an edge on the market.
Find a forex trading simulator that's popular among other traders, and practice your trading strategy without the risk before you start trading in real time. Get the experience first, start live trading when you develop your strategy.
Sim trading is part of the process of becoming a profitable trader, and it's the perfect environment to learn the skills of Forex trading without losing money in the process. Also, check out our Zero to $1 Million Forex Strategy.
Thank you for reading.
Feel free to leave any comments or advice below, we always respond!
Also, please give this strategy a 5 star if you enjoyed it!
[ratings]
Please Share this Trading Strategy Below and keep it for your own personal use! Thanks Traders!
With over 50+ years of combined trading experience, Trading Strategy Guides offers trading guides and resources to educate traders in all walks of life and motivations. We specialize in teaching traders of all skill levels how to trade stocks, options, forex, cryptocurrencies, commodities, and more. We provide content for over 100,000+ active followers and over 2,500+ members. Our mission is to address the lack of good information for market traders and to simplify trading education by giving readers a detailed plan with step-by-step rules to follow.