Trend Line Trading: The Trend Breaker Strategy
I have developed a new Trend Breaker Strategy that simple and yet easy to understand. In this article, I will teach you how to draw trend lines correctly, trendline breakout confirmation, trendline trading strategy secrets, 4 keys to profitable forex trend trading, and many more key elements to trading. This strategy may also be used with accuracy when day trading trend lines. We are going to have all the top trend line trading tips inside this article. We also have training on Trend Line Drawing with Fractals.
This trendline breakout trading strategy uses three indicators, which are the following:
MACD- The inputs for this indicator are: Fast Length= 12 (represents the previous 12 bars of the faster moving average), Slow Length= 26 (Represents the previous 26 bars of the slower moving average), and Signal Smoothing= 9 ( represents the previous 9 bars of the difference between the two moving averages. This is plotted by vertical lines called a histogram).
Simple Moving Average- The inputs for this indicator are: Length 8, Offset 0.

(Red line

)
Exponential Moving Average-The inputs for this indicator are: Length 20, Offset 0. (

Blue line

)
This Trend Breaker strategy also uses three different time frames. They are the 4 hour, the 1 hour, and 15 minute time frames. This top-down approach uses these time frames to identify a trend, find a breakout point, determine an entry point, and execute the trade. You can also read about the Trader Profile Quiz.
Let's get started.
Step One to trend line trading: Identify a trend
The first thing you need to do is identify an upward, downward, or sideways trend by switching to a 4-hour and 1 hour time frames. The reason both are used is that it will give you the best perspective in determining a trend according to this strategy. Draw a trend-line so that 3 points of resistance or support was touched. We created this trendline trading system so that you could easily enter trades without a lot of guesswork on your part. Here You can see a funny video about trading levels.
Since this strategy focuses on trends, a trend line will be drawn on the support or resistance lines of the trend. The criteria for a trend is that there need to be at least three points of resistance or support.
As you can see on the 4- hour time frame below this clearly is a downtrend.
Below is the same chart only this is a 1-hour time frame. This is just to get another perspective of this downtrend. It is good to do this to completely confirm this trend by identifying 3 levels of resistance. Trading with trend lines is not easy, that is why it is important to have a clear system of step by step rules to make it easy for you to follow.
Step Two: Identify a Breakout point Trendline Trading System
In order to find a breakout point of the trend that was identified in step one, the strategy will use a combination of the three indicators (MACD, 15 minute SMA, EMA) to identify a break out on the 15-minute time frame. This time frame is used because a trend was already identified in step one on the 4 hours and 1 hour time frames.
As you can see in the chart above on the 15-minute time frame, the MACD lines were crossed. When the crossover of the fast length and slow length occurs, this will signal a new trend. This gave an indication that a trend was breaking. The moving average and exponential moving average lines also crossed. So when the MACD lines cross and the simple moving average/ exponential lines cross wait until the candlesticks go above/below trend line that was drawn in step one, then identify a point of entry into the trade. One of the reasons we like trend line trading so much is that it is straight forward and simple and we recommend all traders have something simple.
So looking at our example above the criteria was met to go to step three because the SMA and EMA crossed and the MACD lines crossed. Also, the trend went upwards and hit our trend line. This is a signal to go to step three.
If neither of the indicators crosses before the candlesticks close and hit the trend line then do not go any further because the trade does not meet the criteria of the rules. The indicators need to show that the trend broke before it touched the trend line.
Note* When our indicators are crossing, the trend needs to be heading toward the trend line that was drawn in step one. This is because the trend is breaking and a breakout is about to occur. When the breakout happens we will discuss when to make an entry.
Step Three: Trend Line Trading Identify a point of entry
Here is a list of the entry criteria:
These 4 things must happen to enter a trade with this Trend Breaker Strategy.
Simple Moving Average Must Cross below the Exponential moving average.
Macd Must Cross
The price must break below or above the trend line.
After the break of the trendline, you must wait for 3 candles to close on the 15-minute chart before taking your entry.
Now we need to identify a point of entry. To identify a point of entry always use the 15 minute time frame in this strategy.
So in our example below, we see that there is an obvious stand-off between buyers and sellers on the trend line.
Once there are at least three candlesticks above or below the trend line, you execute the trade.
In this example, there are three candlesticks that fell above the trend line after our indicators signaled that the trend was broken. At this point, you want to make an entry. Also, read about Trader's Tech and Installing MT4 EAs with Indicators.
Once your entry point has been determined then you can place a stop loss.
Step four: How to Trade with Trend Lines: Determine where to place a stop loss
Place a stop loss past the last support and resistance levels in the trend itself. Again, use the 15 minute time frame to find this point of resistance/ support level.
In the example shown below, place the stop loss below the last support level. This will ensure that if there was a bearish move, it will hit the last point of support and make a bullish move upwards.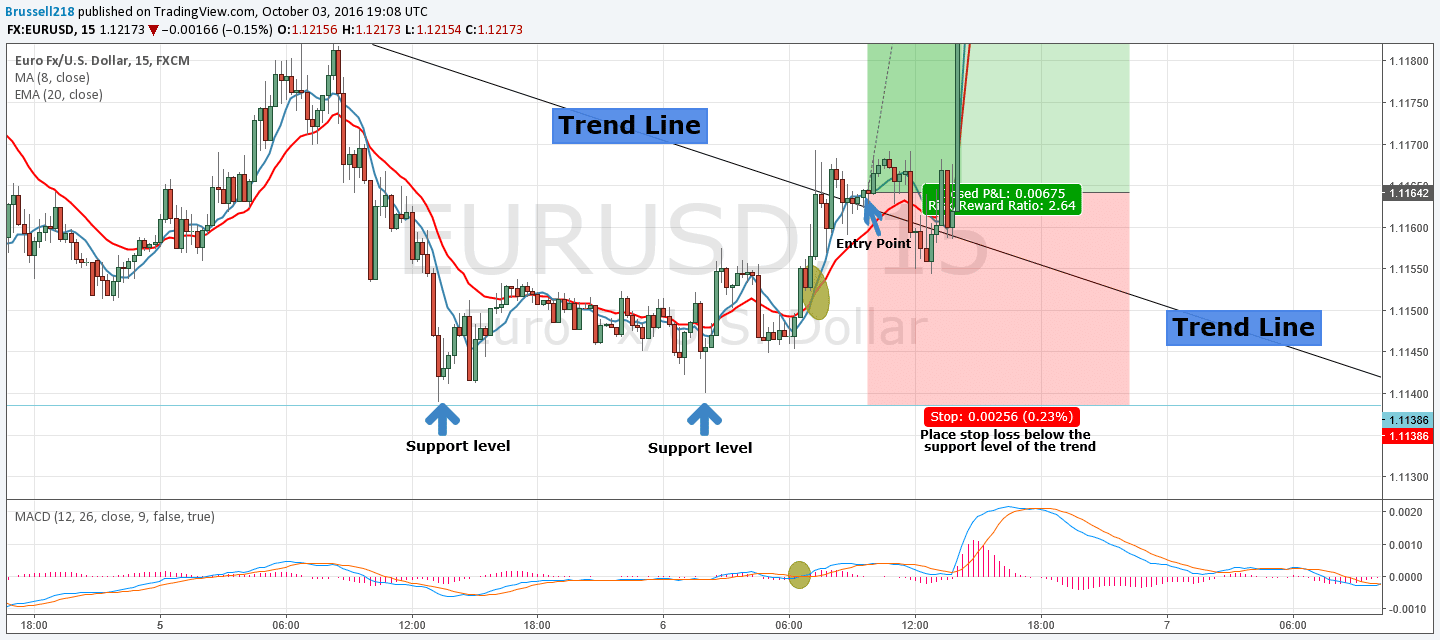 You can clearly see that there are two levels of support in the above example. Use the support levels to determine the stop loss. The rules were to place the stop loss below the last support level which is why you see the stop loss below these levels.
Step five: Trendline Trading System Exit Strategy
The plan clearly identified a trend, a breakout point, point of entry, and determined a stop loss. The final step is to determine the exit point. This Trend Breaker strategy uses 1 risk to 3 reward ratio.
What that means is you have the potential to make 3 times more than you are risking.
To do this you, the first thing that needs to be done is identifying how many pips there are from your entry point to your stop loss. So let's just say you had 24 pips in between these positions. Since we are using a 1 risk to 3 reward ratio, we would simply multiply the number of pips in between the stop and entry by 3. This would give us 72.
So 72 pips would be the target number for that trade.
As you can see in the example below, the target was hit with a gain of +72 pips!
The rules were followed, the ratio of a risk of 1 to 3 reward was put in place, and the trading strategy worked to perfection! Here is the trend line trading youtube video we have produced to help you follow the strategy easier.
Conclusion
This Trend Breaker Strategy is simple and yet effective. There is no need to stress and worry that you made the wrong trade. You follow the rules and do not let anything else make you back out of a trade. If it follows the rules, execute the trade with confidence.
Always remember to only be risking no more than 2% of your account!
This will help you identify daily trends and points where they break. There is no need to force yourself into a trade. If it does not follow your rules and guidelines then search for another pair to trade. Feel free to check out one of our other trading strategies. Tap here to learn the Fibonacci Trend Line Strategy.
---
If you thought this strategy will work great then go ahead and check out the Free Report To this Strategy!
This full report will show you detailed information about this strategy and why it works so well. It will also show you more examples of this strategy. Get the Trendline Trading Strategy PDF.
Please let us know if you have any questions at all about Trend Breaker Strategy!
Also, please give this topic a 5 star if you enjoyed it!
Feel free to contact us at info@tradingstrategyguides.com
[ratings]
---
Please Share this  Strategy Below and keep it for your own personal use! Thanks Traders!
With over 50+ years of combined trading experience, Trading Strategy Guides offers trading guides and resources to educate traders in all walks of life and motivations. We specialize in teaching traders of all skill levels how to trade stocks, options, forex, cryptocurrencies, commodities, and more. We provide content for over 100,000+ active followers and over 2,500+ members. Our mission is to address the lack of good information for market traders and to simplify trading education by giving readers a detailed plan with step-by-step rules to follow.